Down by the pit of the throat عند حفرة الحلق
Released on March 10th 2022
Sonic testimonial by Yalda Younes
My first attempt at composing sound without moving my body in space is an intuitive exploration of my throat cavity, on an evening when I was sick at home in Beirut. My vocal cords, inflamed by a stubborn allergy, were rebelling in full disobedience, sometimes withdrawing in total silence, other times dissociating words from sound, and sound from control. Unsettled and fascinated by the discord between thoughts, mouth and ears, I wanted to record the experience before it vanished as abruptly as it appeared. I knew it was not going to last, and I knew I needed to be able to come back to it when my clear voice returns and dissipates the noise - that urgent noise which interrupts the normality of words, and invites the conditioned mind to step out of dominant narratives and listen to what bodies are saying.
So that evening, driven by the curiosity of what I will hear, I recorded a few voice memos on my phone capturing random thoughts, alongside breathing techniques and inhale-chants that I attempted in order to clear my sinuses and regain, or perhaps lose, my familiar voice. I then crafted this material into a throat-generated composition infiltrated by two alien sources: one of them is the sound of falling olives, also recorded with my phone a week earlier during the last day of harvest in Amioun, and the other is a whatsap voice message from a loved one.
Hovering around fragmentation, body silencing and mourning deprivation, "Down by the pit of the throat" reflects on the obsoleteness of verbal language in the face of perpetual tragedies.
Voice, breath, recording and production Yalda Younes
Mixing Khyam Allami
Commissioned by Redeem
Dedicated to my friend Leil, who inspired this piece
︎click for more information
on the artist
︎Format: Sonic testimonial
Mutaradim متردّم
Released on January 9th 2022
The collaboration of the Lebanese-born filmmaker and musician Siska and the sound artist and music producer Felix Claßen takes place in a field of tension between experimental electronic club music and Arabic-language rap. In music and text, the two Berlin-based artists negotiate content from their independent artistic projects as well as their curatorial practice.
In the northeast of Madagascar lives the Indri, a lemur species of which it is said that the souls of deceased humans live on in it. Because of human interference in its habitat, the species, also known as the monkey song, has itself long been threatened with extinction. The piercing howl of an Indri is at the beginning of "Mutaradim", the first joint release by Siska-K6 & Felix Claßen. The two have recorded four pieces in which they uncover repressed memories, link the background noise of history with rage and new aggressiveness and revive them in the form of music.
︎click to listen & for more information
︎click to watch Beautifull Cage video clip

︎Format: EP - 4 tracks in addition to a podcast
Archive - poster & program prints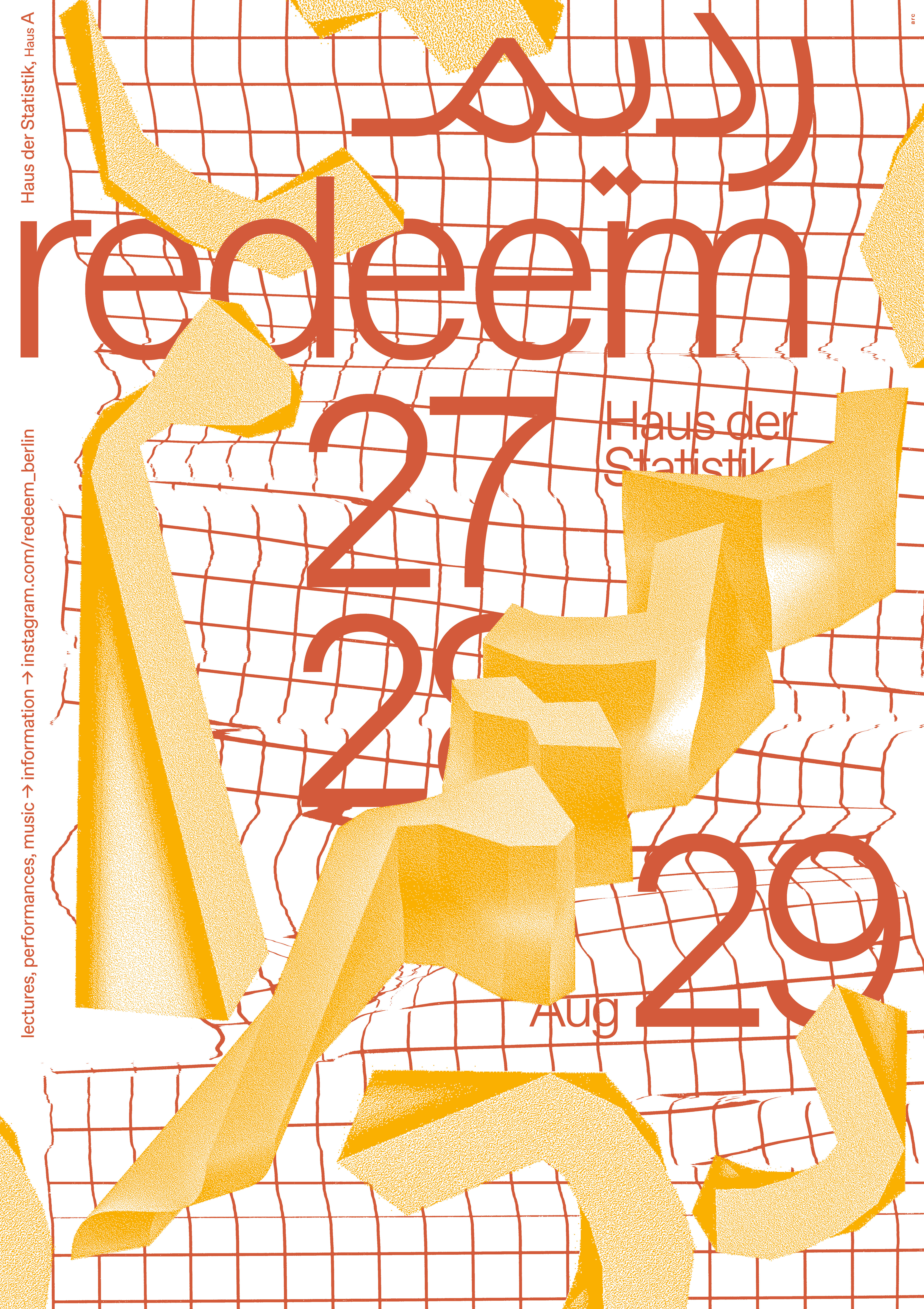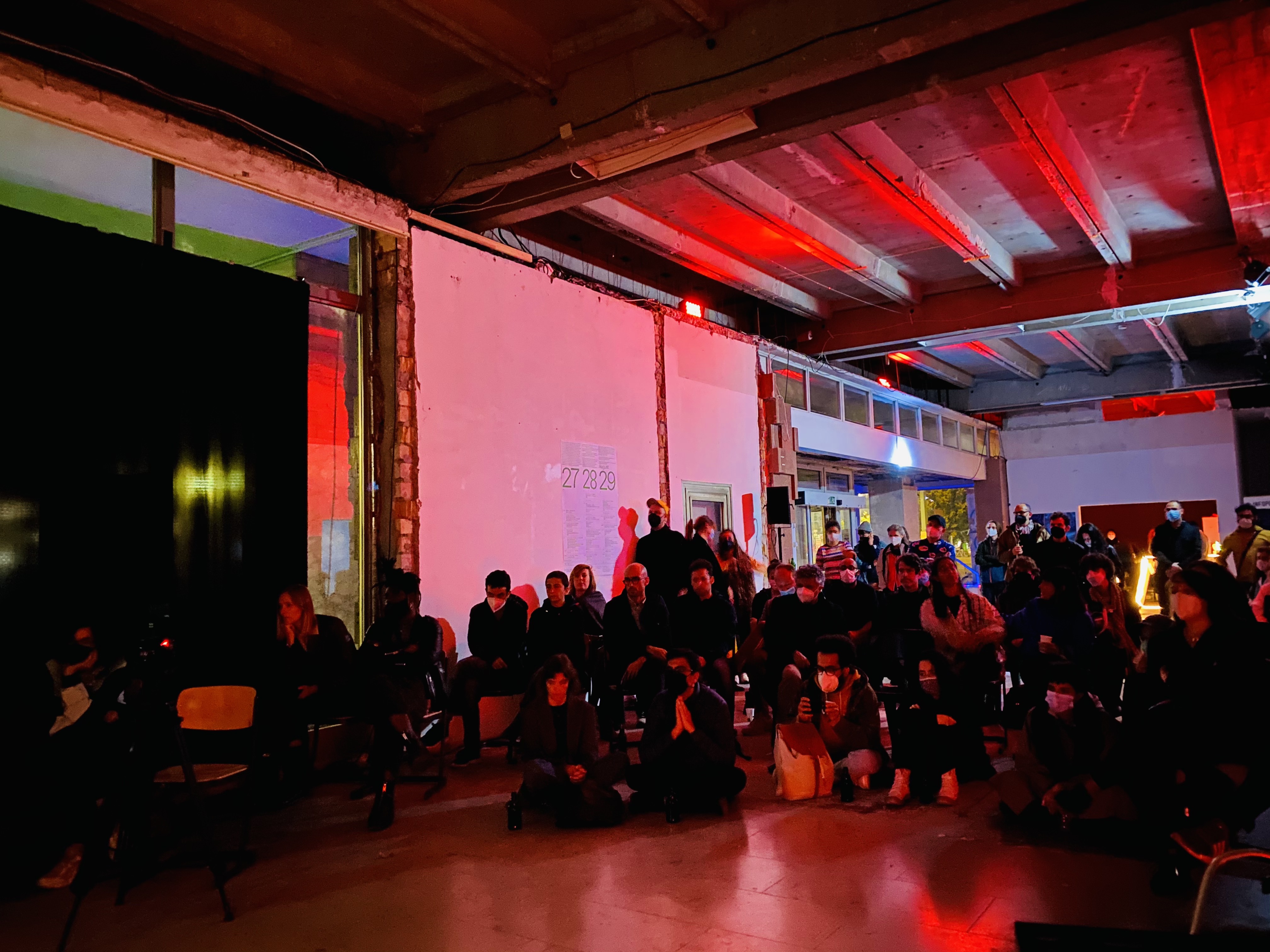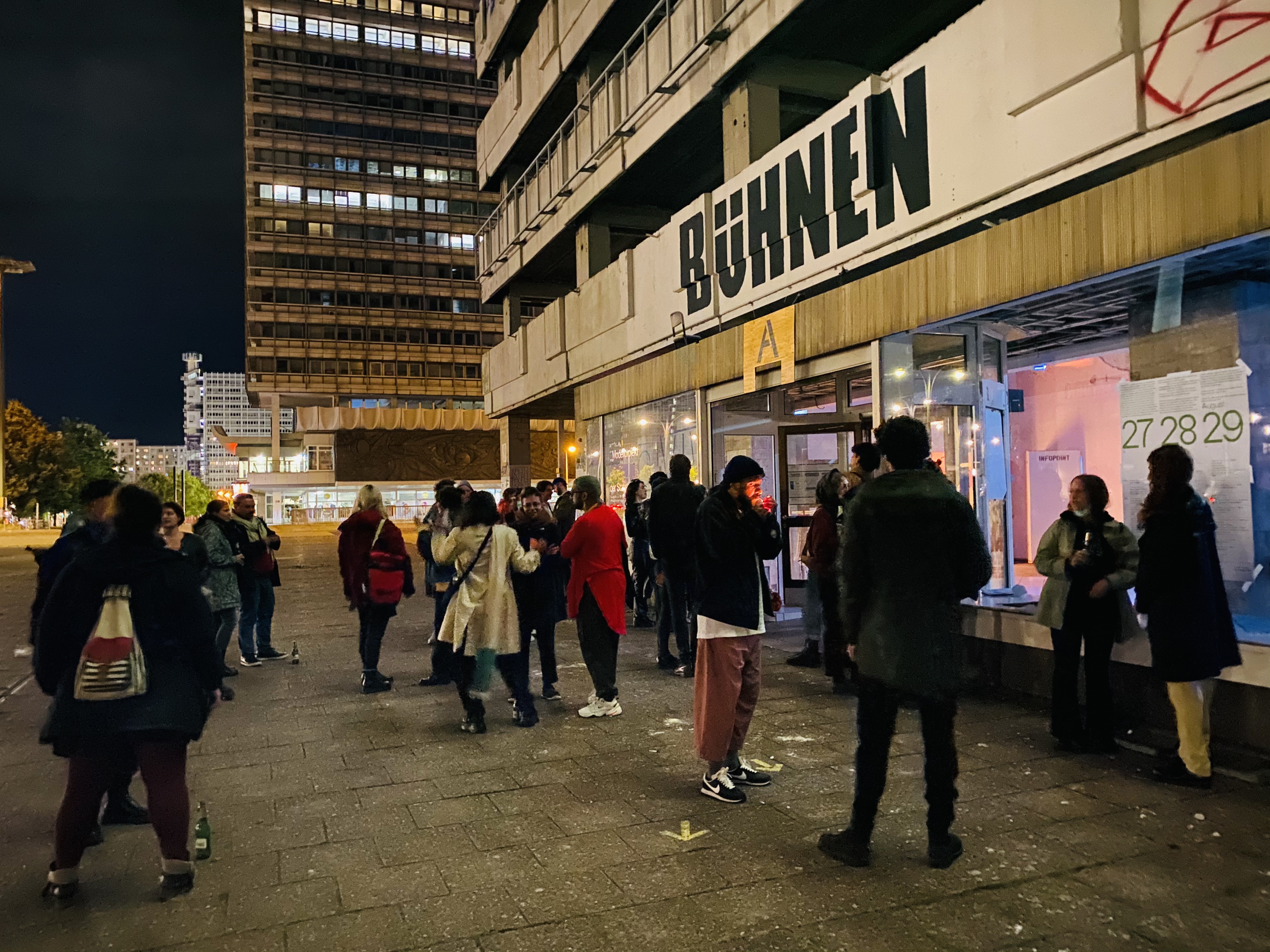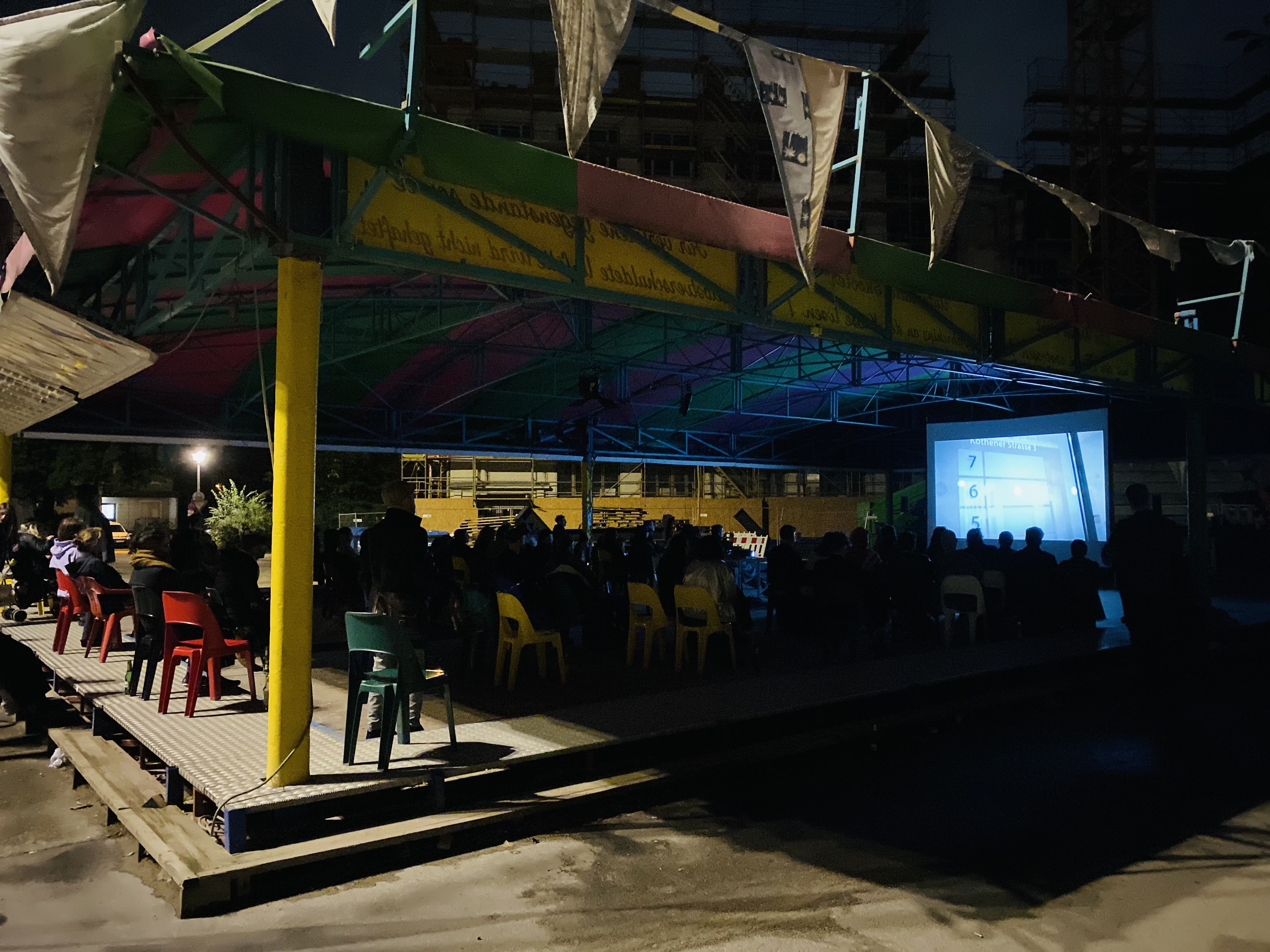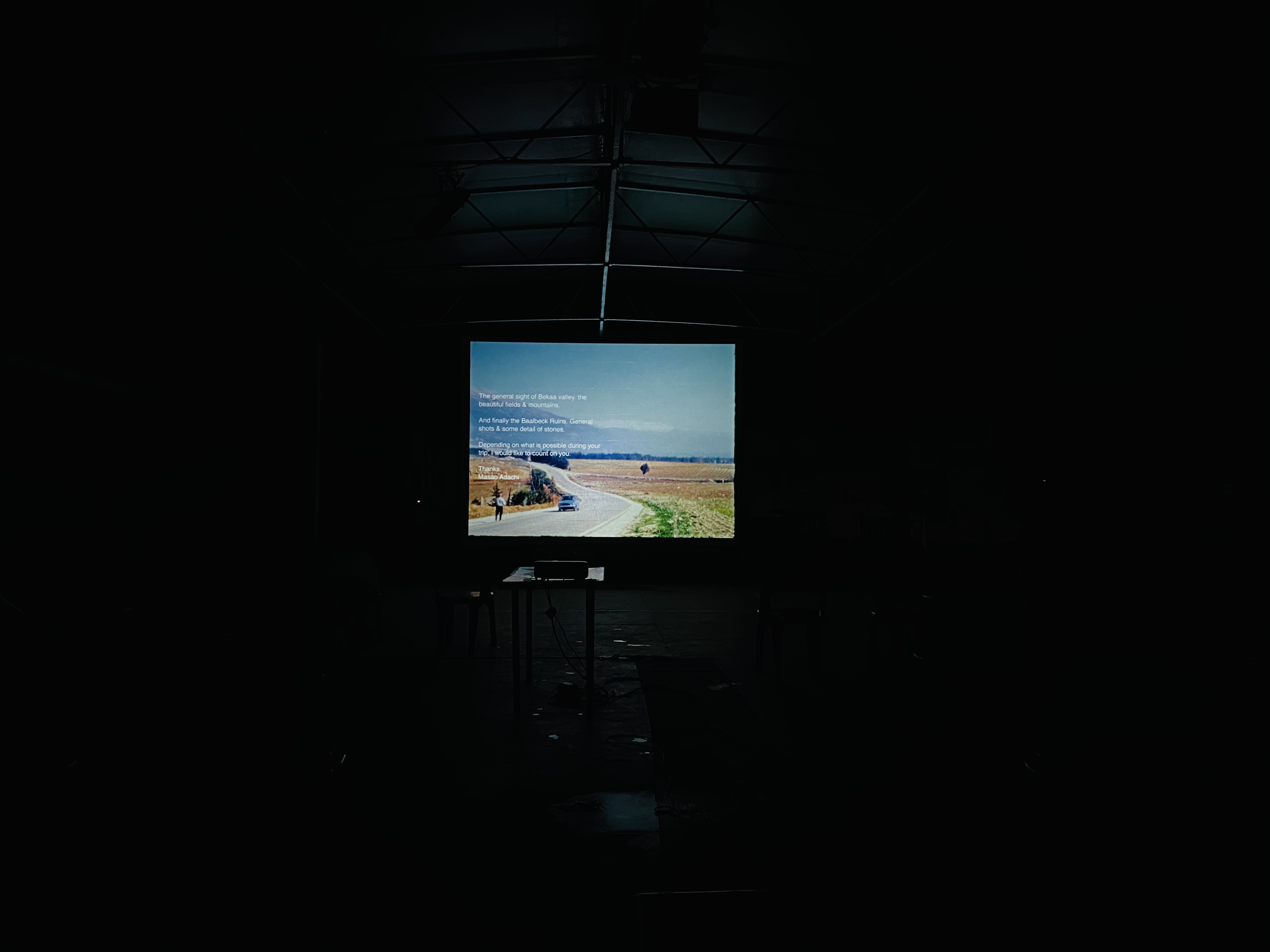 A line-up of talks, films, music, readings and live performances. The main venue was located in Haus A facing Karl-Marx-Allee, selected programs and all films screenings took place in the magic bumper car turned cinema (Autoskino) behind the building.
︎ Location:
Haus der Statistik
in Berlin
︎ Format: in person with online interventions
PROGRAM
---
FRIDAY 27 AUGUST 2021
5 pm WELCOME
With Jens Maier-Rothe and Siska
5.30 pm LISTENING SESSION
With Nancy Naser Al Deen and Sam Wilder
6 pm MAD3OUM
Franziska Pierwoss in conversation with TAP (Temporary Art Platform), Beirut
7 pm FOREST MALAZ
Live streaming from TAP (Temporary Art Platform), Beirut
8 pm AUTOSKINO FILM PROGRAM 1
Panos Aprahamian -
This Haunting Memory That is Not My Own
(2021)
Siska -
Independance Day - A Work in Progress
(2021)
Caitlin Berrigan -
Vacant Address
(2016)
9.30 pm DJ SET by June
10 pm DJ SET by Juliana Huxtable
---
SATURDAY 28 AUGUST 2021
2 pm PRENDED
Conversation with Ghassan Maasri
3.30 pm DISTANT DIVIDES
Conversation with Clementine Butler-Gallie
6 pm POST DUST METAMORPHOSIS
Concert by Raed Yassin
7 pm AUTOSKINO FILM PROGRAM 2
Wael Noureddine -
From Beirut with Love
(2005)
Eric Baudelaire -
The Anabasis of May and Fusako Shigenobu, Masao Adachi, and 27 Years without Images
(2011)
9 pm THE PLACE AND THE WORD. INTERFERED CONVERSATION. BEIRUT.
Performance by Fernando Renjifo, Ziad Chakaroun and Alberto Núñez
Location: AUTOSKINO
10.30 pm CONCERT
With Tony Elieh, Mazen Kerbaj and Maurice Louca
---
SUNDAY 29 AUGUST 2021
3 pm THE CINEMATIC UNCONSCIOUS: BEIRUT HAUNTOLOGY
Conversation with Sami Khatib, Mira Adoumier and Guests
5.30 pm INFLAMED
Reading and talk by Mirene Arsanios
6.45 pm UNFINISHED STATE
Reading and talk by Caitlin Berrigan
Location: AUTOSKINO
7.30 pm MUTARADEM
Listening session with Felix Claßen and Siska
8 pm AUTOSKINO FILM PROGRAM 3
Ayman Nahle -
Disquiet
(2021)
Karam Ghossein -
The Street of Death
(2017)
Marwa Arsanios -
Falling Is Not Collapsing, Falling is Extending
(2016)
9.30 pm DJ SET by Wahid Paradis
10 pm HYBRID SET by Jessika Khazrik
We shall survive...
27th June - 3rd July - 2021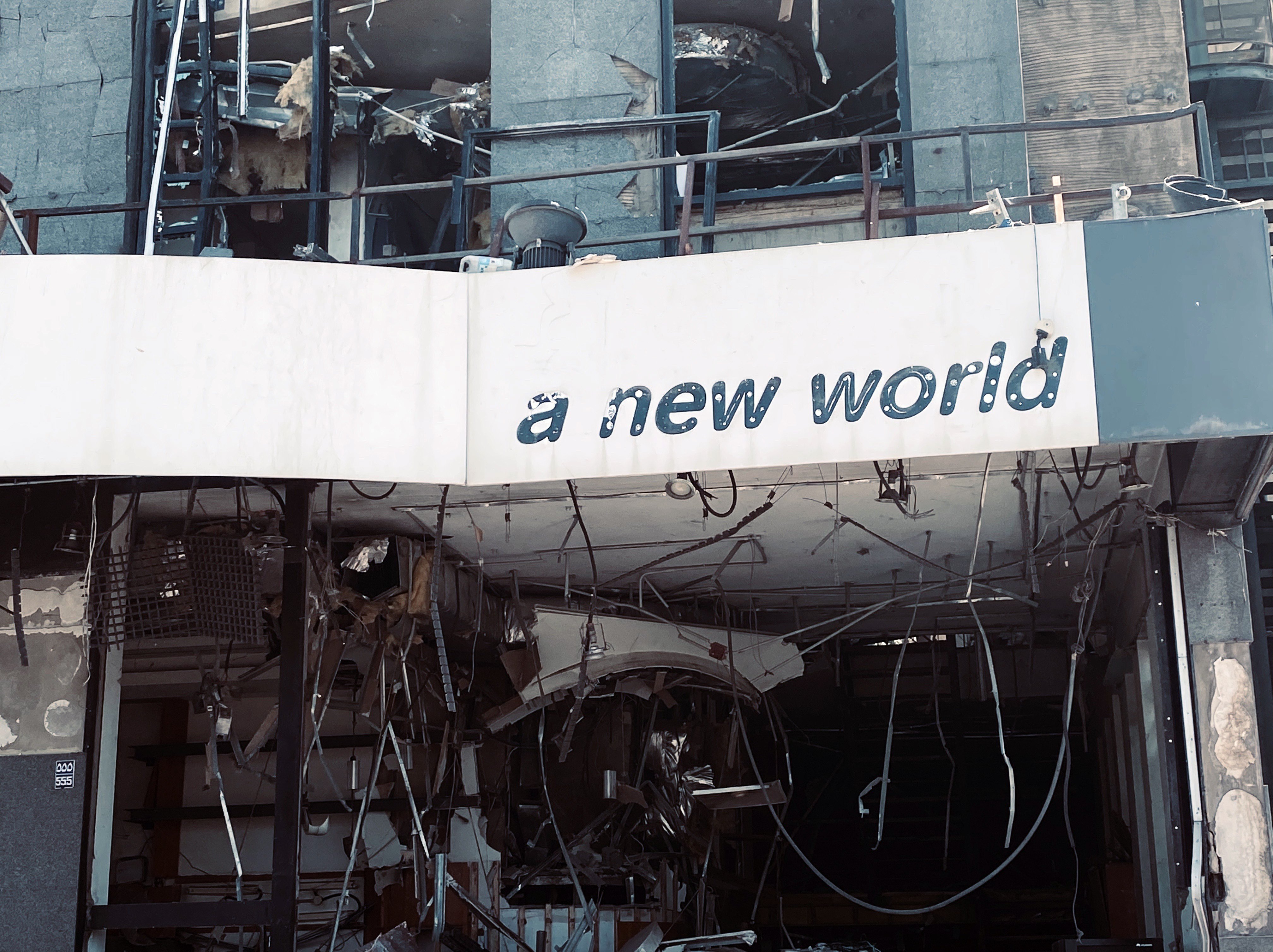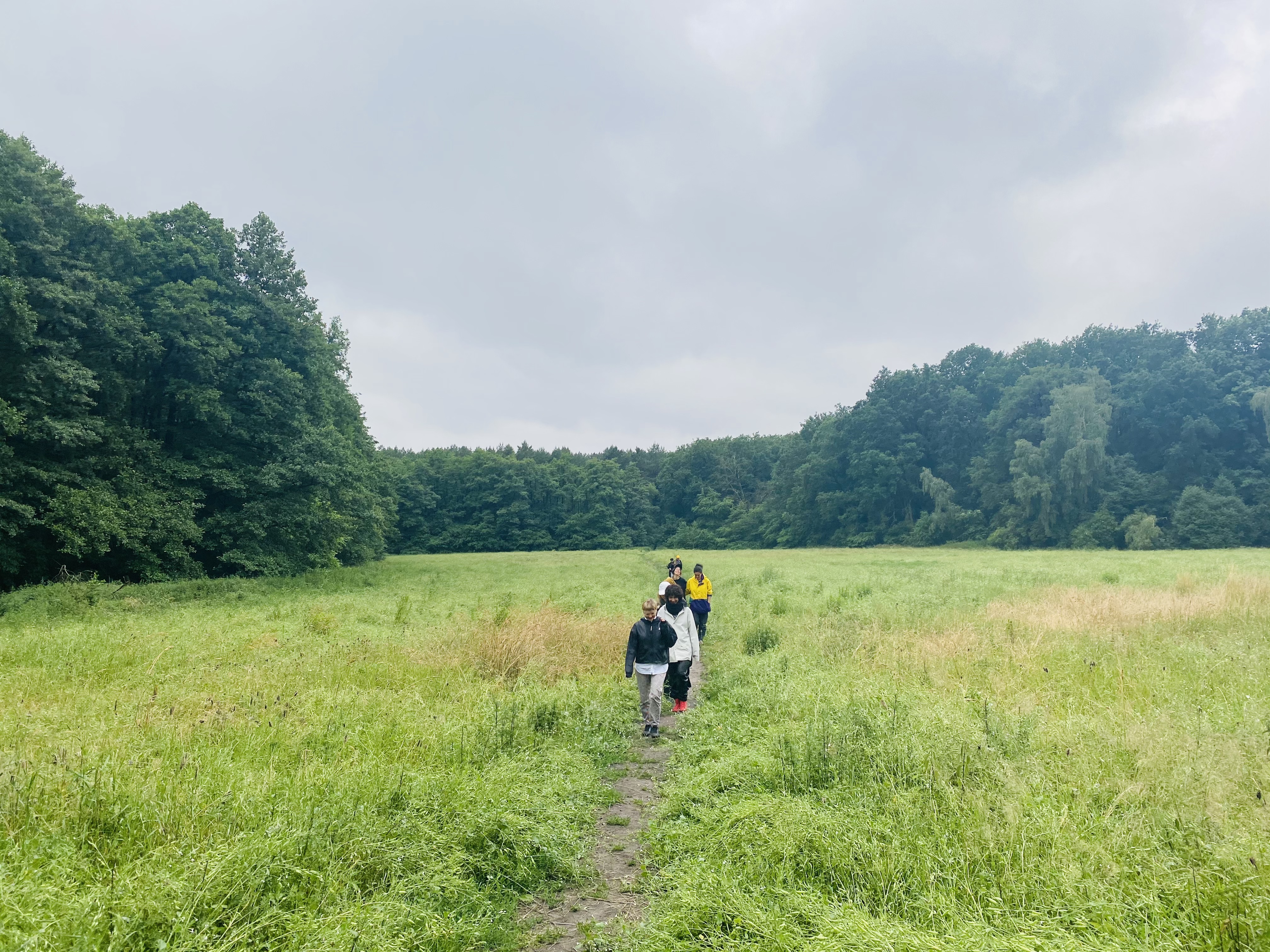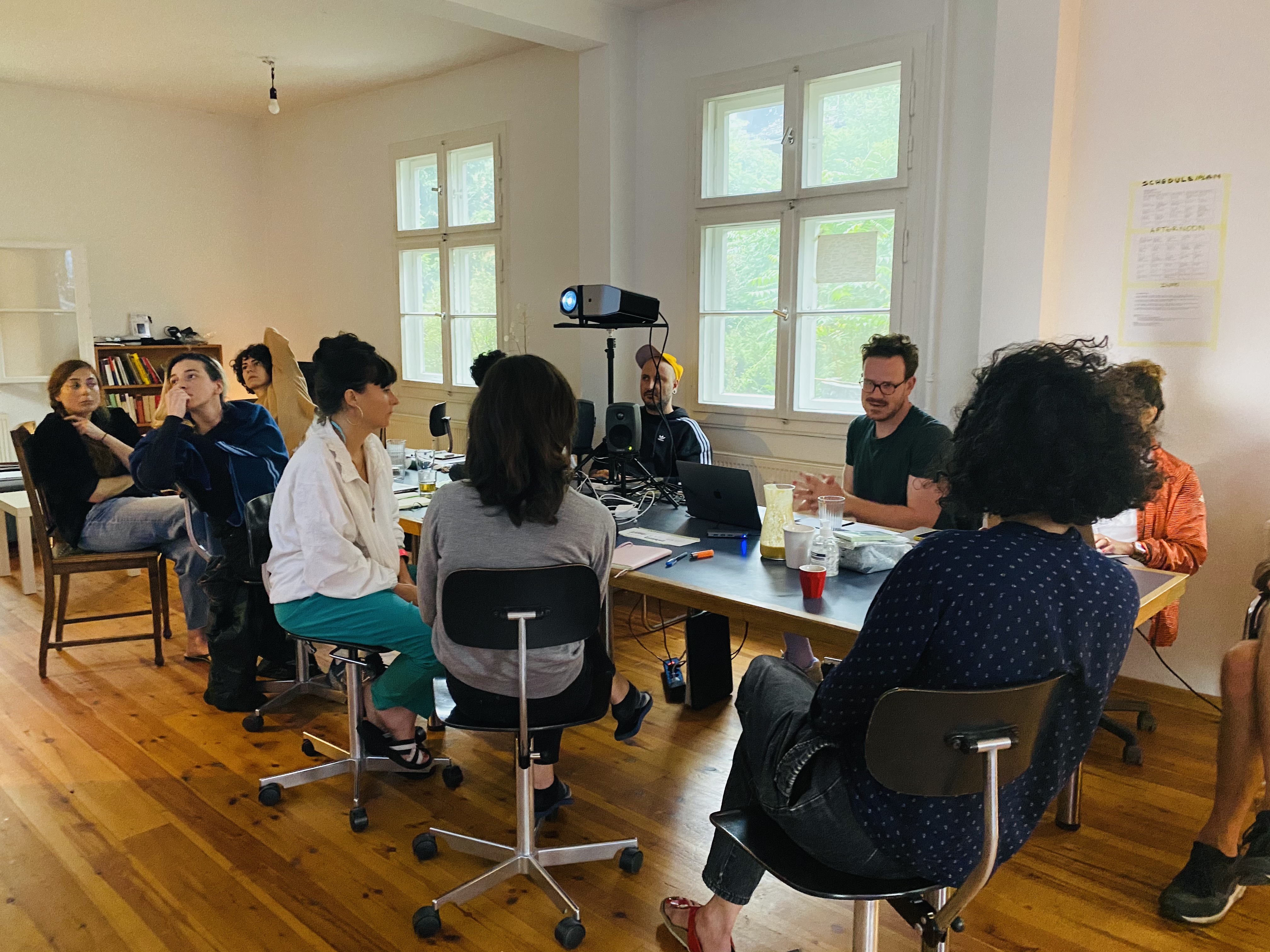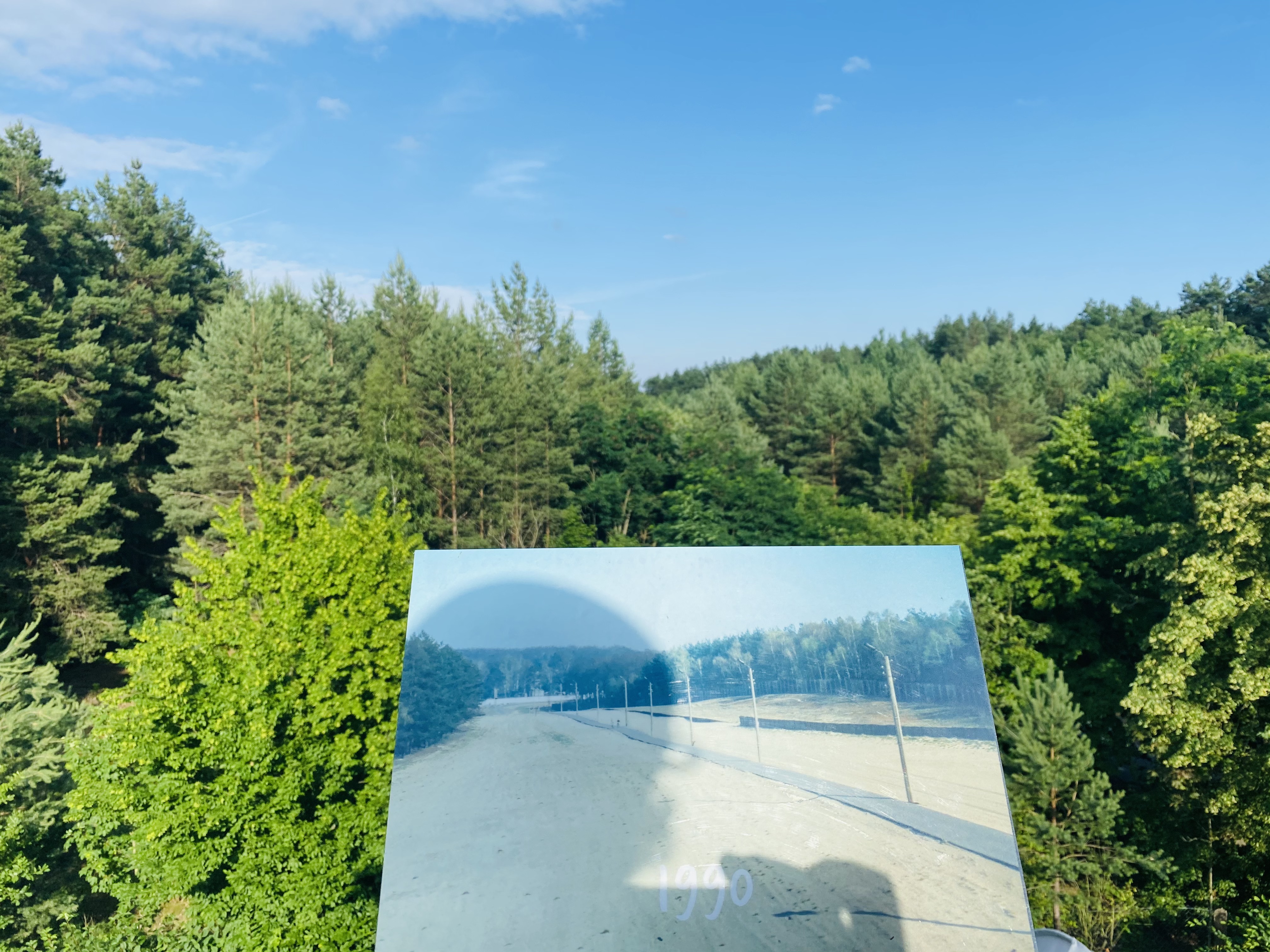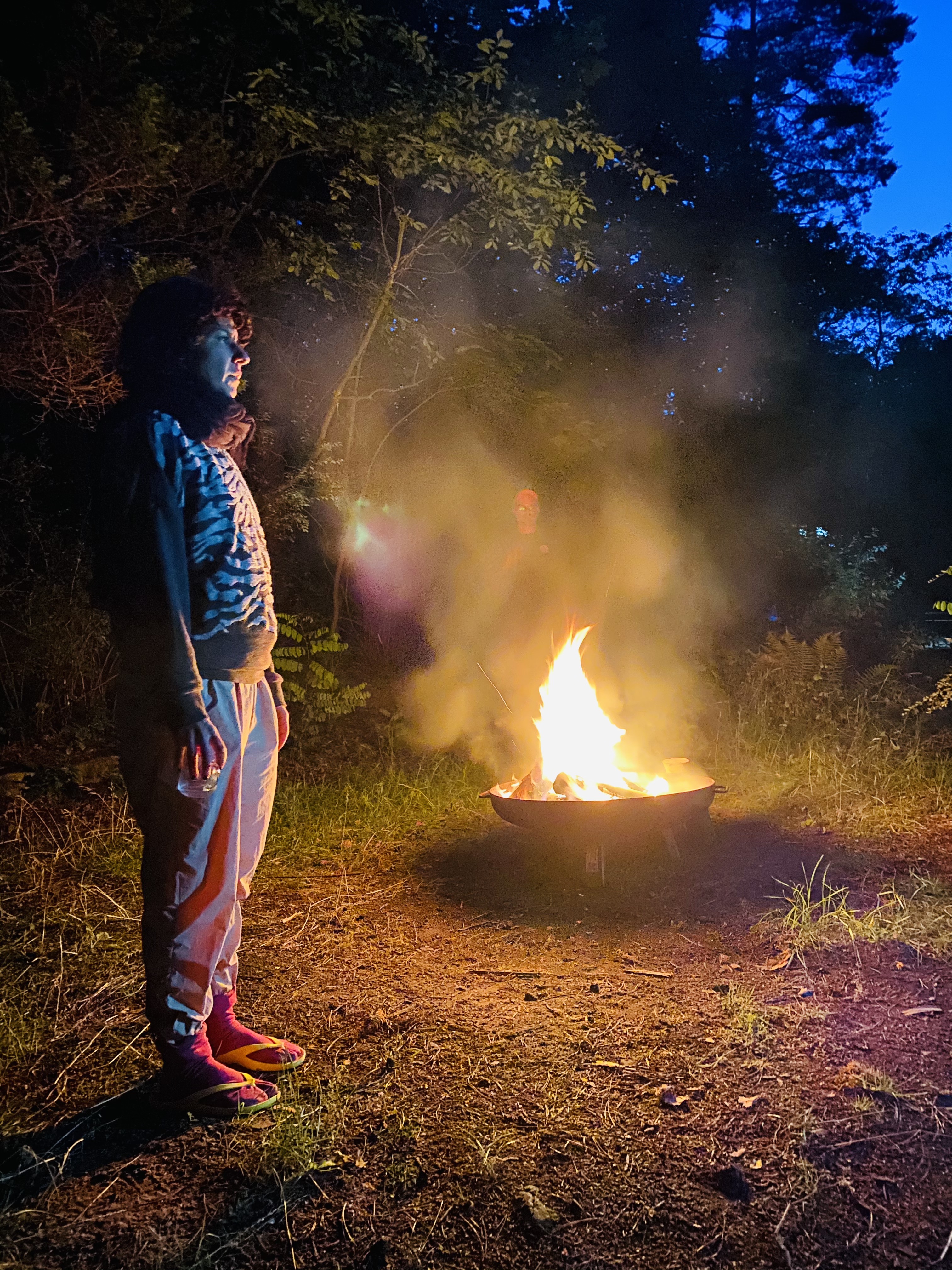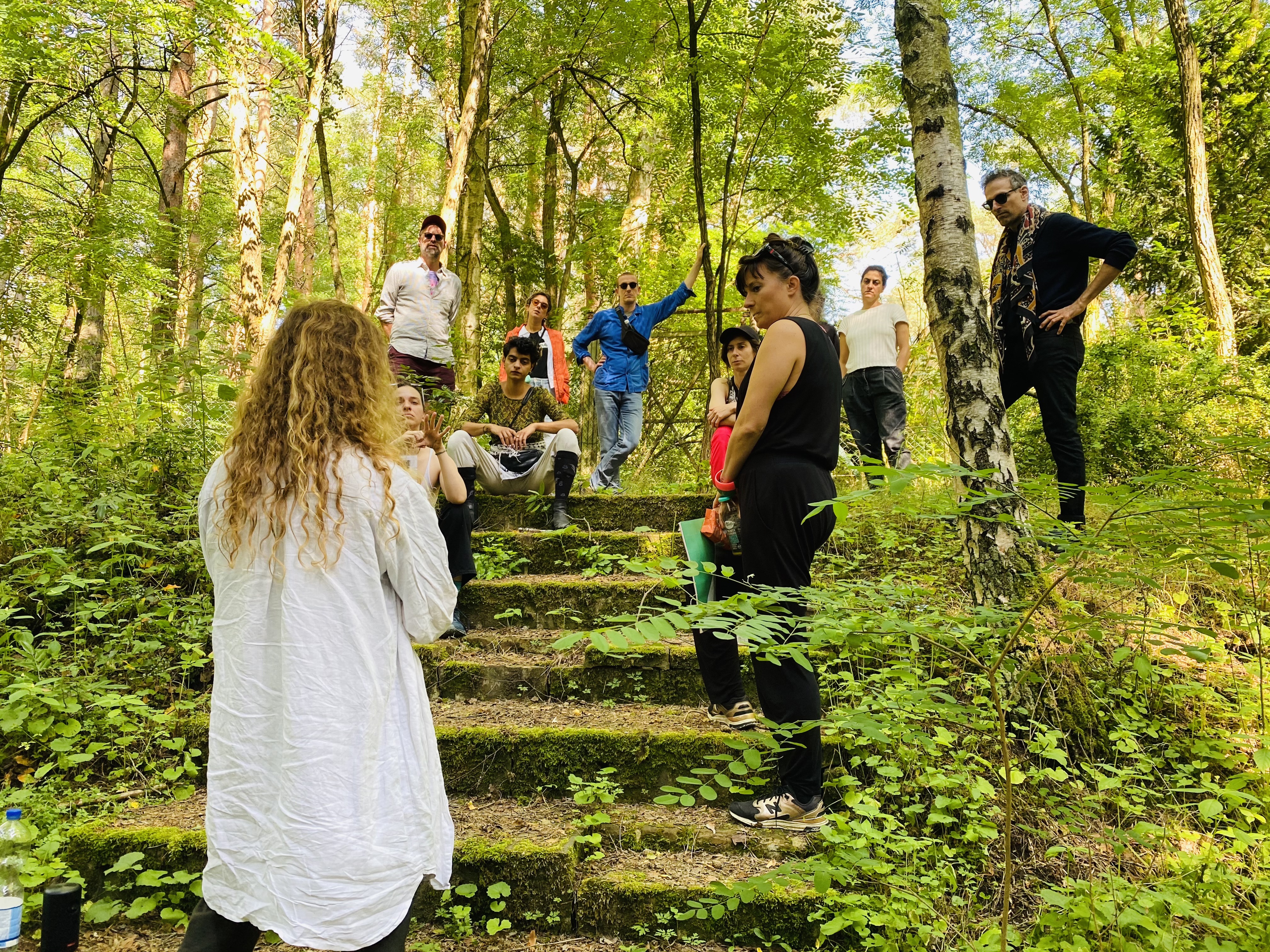 A week-long workshop at Künstlerhof Frohnau in the forest in Berlin.
Redeem acts upon a collaborative desire to amplify and deepen an already existing exchange between the Lebanese artist diaspora in Berlin, and German and international artists who lived and worked in Beirut before the country plunged into its current economic and political crisis. Redeem aims to build a temporary framework of exchange through which they can be widely heard and inspired by each other. To that end, it supplies both runway and refuge for diverse artistic positions within the context of a workshop, a commissioned podcast series, and a series of film screenings, presentations, performances and talks.
︎Location:
Künstler Hof Frohnau
in Berlin
︎ Format: in person with online interventions